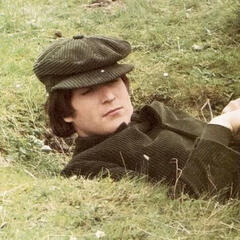 Hello!
Hello! My name is Vinnie or Beatle!! I am part of the LGBTQ+ community (omni and trans) and I use the pronouns He/Him They/Them or It/It's. I am also the host of a DID/OSSD system.
What is DID?
Dissociative identity disorder (DID), once called multiple personality disorder is a disorder in which a person alternates between one or more alternate personalities. If you have questions or are confused you can ask me!
Music!
My favorite type of music is rock!! Some of my favorite bands/artists are The Beatles, Foster The People, Twenty One Pilots, Lil Peep, IDKHBTFM and Machine Gun Kelly. If you let me talk about these band/artists I will love you <3 :]
Favorites!
Here is a list of some of my favorite things!
Movie- Coraline
Tv Shows- The Umbrella Academy and Stranger Things
Colors- Dark Purple, Cyan, and Yellow
Song- Across The Universe by The Beatles (that's one of them)
Food- Pizza
Animal- Cats :]
Hobbies- Listening to Music, Drawing, Sleeping

I hope this let you know some things about me! If your reading this I love you Sophie, Cheems, Hayla, and Clusterhug!